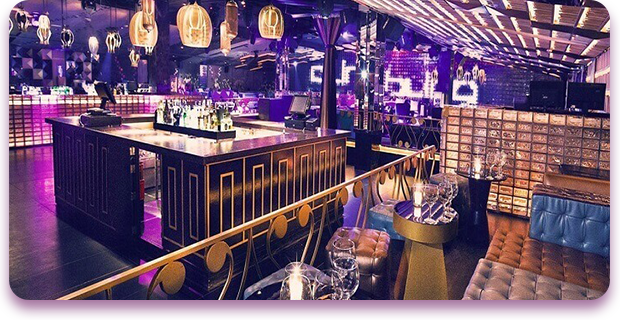 Bling Bling Club
Bling Bling Club Barcelona: A Nightclub Experience Like No Other
Are you ready to elevate your nightlife experience to a whole new level? Look no further than the iconic Bling Bling Club in Barcelona. This dazzling hotspot is not just another nightclub – it's a sensory journey that combines opulence, electrifying beats, and an atmosphere that will leave you mesmerized. If you're seeking the ultimate nightclub experience in Barcelona, Bling Bling Club is where the magic happens.
Unveiling Bling Bling Club: The Epitome of Nightlife Excellence
Location, Location, Location: Nestled in the heart of Barcelona's vibrant nightlife scene, Bling Bling Club stands as a beacon of glamour and excitement. Conveniently situated in the upscale Eixample district, this nightclub's central location makes it easily accessible, attracting partygoers from all corners of the city and beyond.
Luxurious Ambiance: Step into a world of opulence as you enter Bling Bling Club. The interior design is a testament to modern luxury, featuring a lavish blend of contemporary aesthetics and classic elements. Crystal chandeliers cast a radiant glow upon stylish leather sofas and sleek marble accents, creating an ambiance that exudes sophistication.
A Nightclub Sensation: What Sets Bling Bling Club Apart
Breathtaking Design Elements: Every corner of Bling Bling Club is meticulously designed to captivate your senses. The intricate play of lights, from pulsating neon hues to dazzling strobes, dances in harmony with the infectious beats, setting the stage for an unforgettable night.
Unrivaled Sound Experience: At the heart of any nightclub is the music, and Bling Bling Club takes this aspect to unparalleled heights. Renowned local and international DJs curate a diverse musical lineup, blending genres from house and techno to R&B and hip-hop. The club's state-of-the-art sound system ensures that every note resonates with perfect clarity, enveloping you in a sonic embrace.
VIP Service: For those seeking an exclusive experience, Bling Bling Club offers premium VIP services. Elevate your night by reserving a private table complete with bottle service. Indulge in personalized attention from the attentive staff, ensuring that your every need is met while you revel in the electrifying atmosphere.
Unleashing the Night: Your Bling Bling Club Experience
Themed Nights: Bling Bling Club keeps the excitement alive by hosting themed nights that cater to a variety of musical preferences. From throwback retro parties to cutting-edge electronic showcases, there's always a night that aligns perfectly with your vibe. Stay updated on their calendar to ensure you don't miss out on your favorite theme!
Signature Cocktails: Satisfy your taste buds with an array of expertly crafted cocktails from the club's top-notch bar. Signature concoctions, prepared by skilled mixologists, are the perfect accompaniment to your night of dancing and celebration. Sip on a Bling Bling Martini or indulge in a refreshing Barcelona Breeze – each drink is a masterpiece in itself.
Fashion Forward: Bling Bling Club isn't just about the music and ambiance – it's also a stage for fashion enthusiasts to showcase their style. Embrace your inner fashionista and dress to impress as you step into a world where self-expression meets vibrant nightlife culture. Whether you're donning chic urban wear or letting your inner diva shine, Bling Bling Club is the canvas for your nighttime fashion statement.
Getting In: Bling Bling Club Admission
Guest List and Reservations: To ensure you have a seamless entry into the world of Bling Bling Club, consider adding your name to the guest list in advance. This helps expedite the entry process and guarantees you a spot in one of Barcelona's most sought-after nightlife destinations. Alternatively, you can make table reservations for an elevated VIP experience.
Age Restriction and Dress Code: As with most upscale nightclubs, Bling Bling Club maintains a strict age restriction policy – typically admitting guests aged 21 and above. Additionally, be sure to adhere to the club's dress code, which generally calls for stylish and fashionable attire. Leave the flip-flops and casual wear at home; this is your chance to shine.
Conclusion: Your Night of Glamour Awaits at Bling Bling Club
In the tapestry of Barcelona's vibrant nightlife, Bling Bling Club stands as a glistening jewel that promises an unforgettable experience. From its captivating design and top-tier sound system to the exclusive VIP services and themed nights, this nightclub redefines the art of celebration.
Prepare to dance the night away under dazzling lights, surrounded by the city's most fashionable and spirited partygoers. As the beats resonate through your body and the energy of the crowd becomes palpable, you'll understand why Bling Bling is more than a night club in Barcelona – it's an immersive journey into the heart of the nightlife culture.
Make your next night out an extraordinary one. Elevate your nightlife expectations and immerse yourself in the enchanting allure of Bling Bling Club – where the night is young, the music is electrifying, and the memories are destined to last a lifetime.