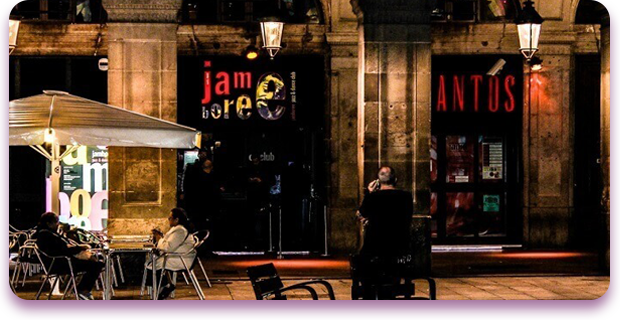 Jamboree Jazz Club
Jamboree Club in Barcelona: A Jazz Odyssey through Time
In the vibrant tapestry of Barcelona's nightlife, one gem stands as a timeless testament to the city's deep musical roots and cultural connections. Nestled at number 17 of the Plaza Real, the Jamboree Club is not just a night club – it's a living legend that has woven the threads of jazz, blues, and Black music into the very fabric of Barcelona's nocturnal soul. As we embark on this musical journey through time, you'll discover the captivating history of the Jamboree Club, its transformative moments, and why it remains an unmissable destination for anyone seeking an unforgettable night out.
1960-1968: The Birth of a Jazz Haven
Flashback to the early 1960s, when the visionary businessman Joan Rosselló breathed new life into the Brindis bar, transforming it into a haven for jazz enthusiasts. Inspired by a suggestion from critic Javier Coma, the bar was christened "Jamboree," a zulu word that encapsulated the spirit of a "reunion of tribes." Thus, the Jamboree Club was born, integrating the sessions of the Jubilée Jazz Club and marking the dawn of a new era in Barcelona's music scene.
During this golden era, Jamboree Club welcomed jazz luminaries that graced its stage with their brilliance. Icons like Chet Baker, Stéphane Grappelli, Ornette Coleman, and Dexter Gordon left an indelible mark, turning the Plaza Real into a global jazz hub. The venue not only drew international stars but also became a cherished haunt of intellectuals and sailors from the VI fleet who docked in Barcelona, seeking solace in the soul-stirring melodies.
1992-2010: Jazz Resurgence and Global Connections
Fast forward to 1992, a year of Olympic fervor, as lawyer Javier Camara took the reins of the Jamboree Club. The club's legacy continued to evolve under the ownership of Mas i Mas, bringing fresh perspectives and rejuvenating its jazz traditions. With a nod to the past, the club's new vision embraced two daily shows and transformed into a dance haven with the grooves of the finest Black music DJs.
In the ensuing years, Jamboree Club's stage bore witness to a harmonious fusion of local and international talents. From Brad Mehldau's enchanting keys to the rhythmic prowess of Elvin Jones, the club nurtured both emerging artists and iconic figures. A remarkable amalgamation of styles graced the stage, with artists like Chris Cheek, Kenny Garrett, and even Cecil Taylor adding their distinctive flavors to the musical palette.
2010-Present: A Harmonious Journey Continues
2010 marked a triumphant milestone for the Jamboree Club, as it received the prestigious Gold Medal from the Barcelona Town Hall. This accolade coincided with the club's 50th anniversary, further cementing its status as a cherished cultural institution. The club's programming remained as dynamic as ever, showcasing a diverse array of talents from Jerry Bergonzi to rising stars like Noah Gordon and Christian Scott.
In 2013, a new chapter unfolded under Pere Pons' programming expertise. The club embarked on thematic cycles, embracing diverse genres, instruments, and even cinematic experiences. The Bolero festival and the San Miguel Jamboree Jazz Club underscored the club's commitment to nurturing musical exploration. This era also saw the fusion of genres with the WTF jam sessions, a unique fusion of jazz, hip-hop, electronic, and world music that resonated deeply with young audiences.
Looking Ahead: The Rhythmic Legacy of Jamboree Club
As the Jamboree Club edges closer to its 60th anniversary, its spirit remains undiminished. The year 2018 brought forth new partnerships, including a music workshop with the Global Music Foundation and a dynamic exchange program with London's renowned Pizza Express jazz club. This collaboration, a cross-pollination of musical genius, exemplifies the club's dedication to pushing boundaries and embracing innovation.
Today, the Jamboree Club continues to beat with a rhythmic pulse that transcends time. Its stage remains a canvas for musical masters and emerging virtuosos, where notes entwine to create harmonies that echo through the ages. From blues to groove, funk to soul, and of course, jazz, the Jamboree Club invites you to join in the celebration of a legacy that's more than just a night out – it's a captivating journey through the heart of Barcelona's musical heritage.
Experience the Magic: Your Night Awaits
Are you ready to immerse yourself in the enchanting melodies of Barcelona's iconic Jamboree Club? Join us for an unforgettable night where music and history converge, where rhythm and soul intertwine, and where every note resonates with the passion of generations past and present. Whether you're a dedicated jazz enthusiast or simply looking for an extraordinary night out, the Jamboree Club beckons, promising a musical odyssey that will leave you longing for more.
Legendary Performances and Intimate Connections
Throughout its illustrious history, Jamboree Club has played host to legendary artists and rising stars alike. The intimate setting allows for an up-close and personal connection between performers and the audience, creating an unparalleled sense of intimacy. Witnessing a live performance at Jamboree Club isn't just a concert; it's a journey that transports you into the artist's world, allowing you to feel every note, every emotion, and every heartbeat.
Your Invitation to Jamboree Club
Are you ready to embark on a journey into the heart of Barcelona's nightlife? Jamboree Club invites you to be a part of the magic. Whether you're a seasoned night owl or someone looking to explore the city's after-dark scene, Jamboree Club promises an experience that will leave you captivated and inspired.
Experience the Night Clubs In Barcelona: Secure your spot at Jamboree Club today and be a part of the electrifying energy that defines Barcelona's nightlife. Immerse yourself in the music, dance like nobody's watching, and create memories that will last a lifetime. Visit [Club's Website] to reserve your place in a world of lights, beats, and unforgettable moments. Your night of enchantment awaits – don't miss out!