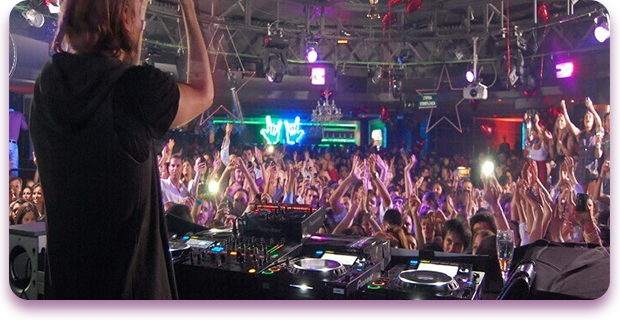 Moog Club
Unveiling Barcelona's Techno Sanctuary: Moog Club
Nestled within the vibrant heart of Barcelona, just steps away from the bustling Las Ramblas, lies an unassuming alley that leads to a world of sonic euphoria and rhythmic ecstasy. Moog Club, a two-storey haven for true techno aficionados, stands as a testament to the city's undying passion for electronic music. With its historic legacy, captivating atmosphere, and relentless dedication to delivering unparalleled musical experiences, Moog Club beckons you to embrace the night and lose yourself in its pulsating beats.
Unlocking the Secrets of Moog Club
As the sun sets over Barcelona and the city's rhythm shifts from daytime charm to nocturnal allure, Moog Club comes to life. Open seven nights a week, every single day of the year, this club is not your run-of-the-mill nightlife destination. Tucked away in a dark and uninviting alley, Moog Club stands as a beacon of techno music's power to captivate and unite. Whether you're a dedicated EDM fan or a curious wanderer stumbling from the main street, Moog's magnetic pull is undeniable.
A Sonic Journey Through Time and Space
Moog Club's musical heart beats to the pulse of techno, embracing all its diverse styles. From the mesmerizing minimalism to the soulful echoes of Detroit, every corner of the genre finds its home within these hallowed walls. If the relentless throb of techno isn't your cup of sonic tea, ascend the stairs to the "mirror room," where poppier melodies mingle with obscure Euro-pop, crafting an auditory experience like no other.
A Nightly Odyssey with International Flair
Wednesday and Thursday nights at Moog Club are your golden tickets to witness the mastery of international DJs who grace the decks. This is your chance to witness legends crafting sonic narratives that transcend language and culture, uniting the crowd under the spellbinding allure of music. The weekly line-up of performers is a testament to Moog Club's commitment to curate unforgettable nights, ensuring every visit is a unique voyage into the world of electronic soundscapes.
The Dance of Ages: Where Past and Present Collide
Step through Moog Club's doors and into a realm where age becomes just a number. While the crowd tends to hover in the 18-22-year-old bracket, Moog's dance floors embrace everyone who seeks liberation through movement. The club's intimate, atmospheric space dissolves differences and blurs boundaries, creating an environment where the music takes precedence over all else. For those seeking refuge from techno's relentless grip, the upstairs sanctuary offers electro pop and nostalgic eighties disco, inviting you to dance away your worries.
Where to Find Moog Club
Moog Club's address, Arc del Teatre 3, 08002 Barcelona, España, might be tucked away, but the journey is worth every step. Just a five to ten-minute walk from the Drassanes metro station (Green Line, L3), Moog Club awaits your arrival. Follow Calle del Teatre, and as the echoes of Las Ramblas fade behind you, the throbbing heart of Barcelona's electronic scene comes into view.
Why Moog Club Should Top Your Must-Visit List
If the promise of heart-pounding beats, immersive atmospheres, and a relentless dedication to musical mastery isn't enough, here's why Moog Club deserves a prime spot on your Barcelona itinerary:
Historic Legacy: Moog Club stands as a testament to Barcelona's deep-rooted love affair with electronic music. With a 16-year history, it has witnessed the evolution of the genre and has been an integral part of shaping the city's nightlife.
Emblematic Venue: The club's underground ambiance and intimate spaces create an immersive experience that transports you to another realm. As the low ceilings amplify the music's intensity and the big speakers pulse with life, you'll find yourself drawn into a world where time stands still.
Diverse Musical Palette: Moog's commitment to showcasing diverse styles of techno ensures that every visit is a unique auditory journey. Whether you're a die-hard techno fan or a curious explorer, there's something here for everyone.
Local Legends and International Maestros: From homegrown Barcelona DJs like Omar León, Gus, and DJ Olmos to international luminaries, Moog Club's line-up promises nights of sonic bliss and cross-cultural connections.
A Gateway to Surrender: Moog Club beckons you to leave your inhibitions at the door and surrender to the music. This is not a place for idle chit-chat; it's a temple of sound where you can dance, connect, and let the music guide your every move.
Conclusion: Surrender to the Sonic Saga
In the heart of Barcelona's enchanting streets, Moog Club stands as a testament to the city's undying love for electronic music. A pilgrimage to this techno sanctuary promises more than just a night out; it's an immersion into a world where beats unite, boundaries dissolve, and the dance floor becomes a canvas for expression. Whether you're a seasoned techno enthusiast or a curious traveler seeking a taste of Barcelona's vibrant nightlife, Moog Club welcomes you to embrace the night, surrender to the music, and become part of a timeless sonic saga.
Embark on your sonic adventure at Moog Night Club in Barcelona. Dive into the heart of techno music, let the beats guide your every move, and become a part of a vibrant community of music lovers. For exact opening times, DJ line-ups, and more, visit the official Moog Club website today. Don't miss the chance to experience Barcelona's legendary electronic scene like never before!