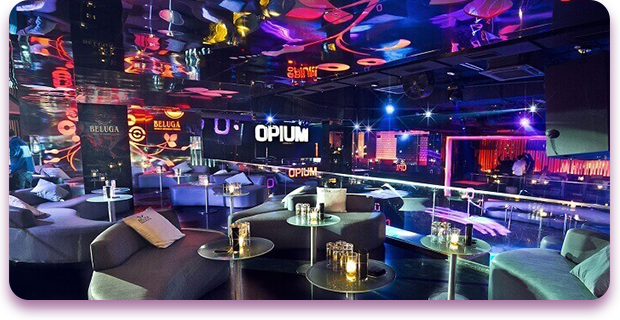 Opium Club
The Ultimate Nightclub Experience at Opium Club in Barcelona
Introduction: When the sun sets over the vibrant city of Barcelona, a new world awakens – a world of pulsating beats, electrifying energy, and unforgettable memories. If you're seeking an unparalleled nightclub experience, look no further than Opium Club, a nightlife gem nestled in the heart of this captivating Spanish city. In this blog post, we delve into the reasons why Opium Club is a must-visit destination, the music that sets the dance floor ablaze, and the unforgettable clubbing experience that awaits you.
Why Opium Club? Opium Club isn't just a nightclub; it's a sanctuary for night owls and music enthusiasts alike. Here's why you should add Opium Club to your Barcelona itinerary:
Breathtaking Location: Situated right by the Mediterranean Sea, Opium Club boasts a stunning beachfront location. Imagine dancing the night away with the sea breeze on your face and the sound of waves in the background – an experience like no other.
World-Class DJs: Opium Club consistently hosts some of the most renowned DJs from around the globe, ensuring an electrifying atmosphere that keeps the dance floor alive until the early hours of the morning.
State-of-the-Art Sound and Lighting: The club's cutting-edge sound and lighting systems create an immersive audiovisual experience, amplifying the energy and excitement of the night.
Unforgettable Events: Opium Club hosts a variety of themed parties and events throughout the year, ensuring that every visit is unique and memorable.
The Musical Journey: At Opium Club, music is the heartbeat of the night. The club offers a diverse range of musical genres to cater to every taste, including:
Electronic Dance Music (EDM): Get ready to lose yourself in the pulsating rhythms of EDM as top-notch DJs spin their tracks, creating an atmosphere of euphoria that's impossible to resist.
House Music: Feel the groove of house beats that seamlessly blend classic and contemporary sounds, making it impossible not to move your feet.
Latin Vibes: Experience the fiery rhythms of Latin music that infuse the dance floor with energy and passion, transporting you to a carnival-like celebration.
Top 40 Hits: Dance to the latest chart-toppers and sing along with fellow clubbers as Opium Club plays the biggest hits of the moment.
The Opium Clubbing Experience: A night at Opium Club is more than just dancing – it's an immersive sensory journey. Here's what you can expect from your clubbing adventure:
Stunning Ambiance: Opium Club's modern and stylish décor creates an inviting ambiance that sets the stage for an unforgettable night.
VIP Treatment: Elevate your experience by opting for VIP tables and bottle service, allowing you to indulge in luxury while enjoying the vibrant atmosphere.
Diverse Crowd: Opium Club attracts a diverse crowd of locals and tourists, creating a melting pot of cultures and a chance to make new friends from around the world.
Memorable Sunrises: As the night evolves into dawn, step outside onto the terrace and witness the breathtaking sunrise over the Mediterranean Sea – a magical moment that encapsulates the essence of Barcelona's nightlife.
Conclusion: Opium isn't just a night club in Barcelona; it's a destination that promises an immersive and unforgettable experience. With its stunning location, diverse music selection, and vibrant ambiance, Opium Club stands as a testament to Barcelona's thriving nightlife scene. Whether you're a dedicated music lover, an adventure seeker, or simply someone looking to dance the night away, Opium Club invites you to be a part of an electrifying journey that will leave you with memories to last a lifetime. Don't miss out on the chance to immerse yourself in the ultimate nightclub experience – make Opium Club your next destination in Barcelona!