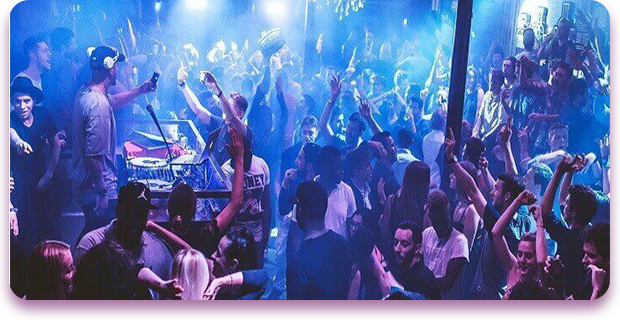 Otto Zutz Club
Unveiling Barcelona's Ultimate Party Haven: Otto Zutz Club
In the heart of Barcelona, where history and modernity converge, lies a hidden gem that has revolutionized the city's nightlife scene. Otto Zutz Club, a former textile factory turned electrifying nightclub, has emerged as one of the most sought-after venues in Barcelona. With its unique blend of industrial charm, cutting-edge design, and an irresistible lineup of music genres, Otto Zutz Club beckons party enthusiasts from all corners of the globe. Let's take a closer look at why this club is a must-visit for anyone seeking an unforgettable night out in Barcelona.
A Fusion of Past and Present
Deep within the heart of the Sant Gervasi district, Otto Zutz stands as a testament to Barcelona's ability to seamlessly blend its rich history with a modern twist. What once housed a small textile fabric factory has now evolved into a pulsating nightlife destination. The club's designers have skillfully preserved the building's historical essence, creating an atmosphere that is both familiar and exhilarating. As you step inside, you'll be transported to a realm where the echoes of the past coexist harmoniously with the beats of the present.
Industrial New York Chic
Immerse yourself in the distinctive charm of Otto Zutz Club's decor, reminiscent of the industrial landscapes of New York. The clash between its former textile factory identity and the edgy urban design creates an ambiance that's both intriguing and cool. Exposed pipes, cast iron pillars, metal fences, and open spaces merge to create an environment that's a feast for the senses. It's a testament to the club's commitment to creating a unique atmosphere that sets it apart from the ordinary.
A Sonic Odyssey: Music for Every Soul
The heart and soul of any nightclub reside in its music, and Otto Zutz doesn't disappoint. With an electrifying lineup of DJs spinning an array of musical genres, the club ensures that every visitor's musical tastes are catered to. From the thumping beats of Hip Hop, R&B, Funky, and House to the rhythmically charged Latin melodies, the club's three levels offer a sonic journey that transcends boundaries. Resident DJs like DJ Muly and DJ Davin curate unforgettable nights, making Otto Zutz Club a mecca for music lovers.
Unleash the Night: Party All Week Long
At Otto Zutz Club, the party never stops. From Wednesday to Saturday, the club pulses with life, offering a vibrant space for revelers to come together and celebrate. The club's two separate dance floors provide a haven for every type of dancer, from those who sway to the rhythm of House to those who groove to the beats of Hip Hop. If you're looking to elevate your night even further, Otto Zutz Club offers its own party package complete with perks and deals that ensure an unforgettable experience.
A Lively Haven in Sant Gervasi
Situated just outside the bustling city center, the Sant Gervasi district offers a more relaxed and easy-going vibe. Otto Zutz is the crown jewel of this vibrant area, where restaurants, bars, cafes, and other clubs converge to create a lively atmosphere that's perfect for a night out. Whether you're a tourist seeking a taste of local nightlife or a local looking for an unforgettable evening, Otto Zutz promises an immersive experience like no other.
Seamless Access: Where Nightlife Dreams Come True
Reaching Otto Zutz Club is as seamless as the beats that fill its dance floors. The club's proximity to other popular nightclubs makes it an ideal starting point for a night of exploration. Accessible via public transport, the closest subway stop, Fontana, is just a short 6-minute walk away. While the club doesn't enforce a strict dress code, dressing your best is highly recommended to complement the stylish and energetic ambiance.
Conclusion: Unleash Your Inner Party Animal at Otto Zutz Club
Otto Zutz is not just a nightclub in Barcelona; it's a captivating journey that seamlessly melds history, design, and music into an unparalleled nightlife experience. With its industrial New York decor, diverse music lineup, and commitment to creating unforgettable nights, the club has earned its rightful place among Barcelona's top venues. Whether you're a lover of Hip Hop, R&B, House, or simply a seeker of good times, Otto Zutz Club invites you to let loose, dance your heart out, and become part of a pulsating energy that defines Barcelona's nightlife.
Prepare to embark on a nightlife adventure like no other at Otto Zutz Club in Barcelona. With its unique history, industrial chic ambiance, and a musical palette that caters to all tastes, Otto Zutz promises an unforgettable night out. For more information, visit the official Otto Zutz Club website and discover how you can be a part of Barcelona's electrifying party scene. Don't miss your chance to experience the city's iconic nightlife in a whole new light!