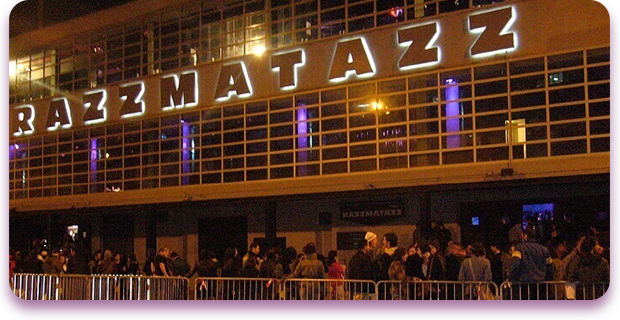 Razzmatazz Club
Discover the Nightlife Adventure: Razzmatazz Club in Barcelona
When the sun sets over the picturesque streets of Barcelona, a different kind of magic awakens. The city transforms into a pulsating hub of vibrant nightlife, with each corner offering a unique experience. And at the heart of this nocturnal excitement stands Razzmatazz Club, an iconic establishment that promises an unforgettable night of adventure and music. If you're on the hunt for an extraordinary clubbing experience, Razzmatazz is where your quest ends.
Unveiling Razzmatazz: Barcelona's Premier Super Club
Nestled amidst the dynamic urban landscape of the city, Razzmatazz is no ordinary nightclub in Barcelona. It stands as a sprawling testament to the city's electrifying spirit, beckoning partygoers to step into a world of musical enchantment. What sets Razzmatazz apart is its colossal warehouse-style building, housing not one, not two, but five distinct club spaces under a single roof. This is where the night comes alive, where music becomes the heartbeat of the city.
A Club Like No Other: The Multi-Space Marvel
Imagine walking into a realm where every room is a club in itself. Razzmatazz delivers precisely that. Venture into this labyrinth of sonic delights, and you'll find yourself amidst an array of club spaces, each with its own character and energy. Are you a fan of indie rock? Head to the Razz Club. Craving techno-driven beats? Ascend to The Loft or Lolita. Looking for a pop-infused groove? The Pop Room and the Rex Room await your arrival. It's as though you've embarked on a nightlife odyssey, dancing your way through diverse genres and atmospheres.
An Eclectic Melange: The Soundtrack of Razzmatazz
The heart and soul of any club lies in its music, and Razzmatazz's eclectic sound policy is a testament to its dedication to delivering the ultimate auditory experience. From electro to pop, from dubstep to disco, the sonic spectrum here is boundless. The musical journey varies not only from night to night but also across the different spaces on the same evening. This is where modern and forward-thinking music takes center stage, inviting you to lose yourself in a world of harmonious chaos.
Where Global Icons Converge: Unveiling the Line-Up
Razzmatazz doesn't just play host to local talent – it's a stage for international big players. The club boasts a reputation for curating some of the most sought-after line-ups, drawing acclaimed artists from around the globe. It's where musical legends and rising stars converge, delivering performances that resonate through every corner of the club. For those who seek the thrill of witnessing iconic acts up close, Razzmatazz is the ultimate destination.
Where Style Meets Substance: The Razzmatazz Crowd
Stepping into Razzmatazz isn't just a night out; it's a visual spectacle. As you dance your way through the maze of dance floors and corridors, you'll find yourself surrounded by an intriguing blend of style and flair. Concept haircuts, art school T-shirts, and collectible trainers become part of the vibrant tapestry that is the Razzmatazz crowd. This is where Barcelona's young hipsters come to celebrate the night, where clued-up tourists join the revelry, all united by the common pursuit of an unforgettable experience.
The Adventure Awaits: Getting There and Beyond
Locating Razzmatazz is all part of the adventure. The club is situated a mere five to ten minutes' walk from the Marina metro station, accessible via the Red Line (L1). Upon leaving the metro station, a scenic stroll down Calle dels Almogavers leads you to Calle Pampalona. Take a right onto Calle Pampalona, and as you navigate the streets, the grandeur of Razzmatazz unfolds before your eyes. Its presence is undeniable, an urban oasis of sound and rhythm.
Lights, Camera, Action: Unveiling the Opening Times
Razzmatazz doesn't just adhere to a weekend-centric schedule – it opens its doors every night of the week. Whether it's a spontaneous Tuesday night craving or a full-blown weekend extravaganza, the club welcomes you with open arms. However, to ensure you're in sync with the rhythm of the night, make sure to check the official Razzmatazz Club website. It's your compass to the world of line-ups, opening times, and concert schedules, ensuring you never miss a beat.
Conclusion: Your Night Awaits at Razzmatazz Club
Barcelona's nightlife is an adventure waiting to be explored, and at its heart lies Razzmatazz Club – a multi-space marvel that transcends the conventional clubbing experience. From its eclectic music policy to its legendary line-ups, Razzmatazz is more than a nightclub; it's an escape into a world of sonic euphoria. So, if you're ready to dance to the rhythm of adventure, embark on a journey through its mesmerizing dance floors. Barcelona's one and only super club beckons – will you answer the call?
Experience the Magic of Razzmatazz!
Don't miss out on the nightlife adventure of a lifetime. Head over to Razzmatazz Club and immerse yourself in a world of music, dance, and boundless excitement. From the enchanting array of club spaces to the international line-ups that grace its stages, Razzmatazz is where memories are made and nights come alive. Whether you're a local seeking a new thrill or a curious traveler looking to experience Barcelona's pulse, Razzmatazz awaits your arrival. Visit the official website to uncover the latest line-ups, opening times, and concert schedules. The journey begins here – are you ready to dance into the night?