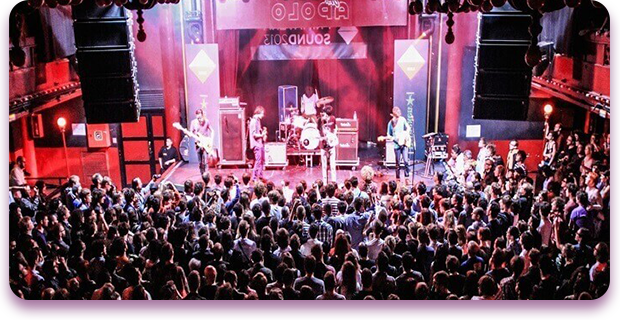 Sala Apolo Club
Experience Barcelona's Vibrant Nightlife at Sala Apolo: The Ultimate Night Club
Barcelona, a city known for its stunning architecture and rich history, also boasts a vibrant nightlife scene that's truly unbeatable. Among the many nightclubs that dot the cityscape, one name stands out as a legendary hub of entertainment and music: Sala Apolo. This iconic venue has been a cornerstone of Barcelona's nightlife for nearly 80 years, offering an electrifying blend of concerts, club nights, and cultural events that cater to diverse tastes.
A Rich History of Entertainment
Originally an amusement park in the early twentieth century, Sala Apolo has undergone a series of transformations to become the cultural powerhouse it is today. From dance hall to bingo, skating club to disco, the venue has evolved in rhythm with the changing desires of society. Now a concert hall and nightclub in Barcelona, Sala Apolo seamlessly combines its historical legacy with modern excitement, making it a national and international reference in nightlife and culture.
Variety of Spaces and Events
Sala Apolo's main space and its secondary area, La [2] de Apolo, come alive with energy and music, hosting an impressive array of concerts and events. The venue has a total capacity of 2900 people, making it a significant gathering place for music enthusiasts. Additionally, the three rooms – La Sala Apolo, La Sala [2] de Apolo, and the newer La Sala [3] de Apolo – have witnessed the rise of over 13,000 musical acts and 7,000 DJs. From world-renowned acts like Coldplay and Interpol to local talents like John Talabot, Sala Apolo has been a stage for creativity across genres.
A Diverse Clubbing Experience
Sala Apolo's nights are as diverse as its history, catering to an eclectic crowd with different musical tastes. The weekly lineup includes:
Nasty Mondays: Kickstarting the week with hits, indie-rock, and pop.
Crappy Tuesdays: Embracing the purest indie sound for a midweek musical treat.
Canibal: Wednesdays bring urban hits, trap, hip-hop, dancehall, afrobeats, and more.
Bresh: Another Wednesday option featuring hits, pop, reggaeton, hip-hop, electro, and trap.
Milkshake: Thursdays offer a blend of rock, reggaeton, hip-hop, electro, dance, hits revival, and pop.
Nitsa: Fridays and Saturdays are dedicated to techno, house, electro, urban, and disco beats.
Churros with Chocolate: Occurring once a month on Sundays, featuring hits, burlesque, pop, and queer anthems.
Apolo's Audience and Atmosphere
The audience at Sala Apolo varies based on the day and event. University students and young people aged 18 to 24 dominate the weekdays, while electronic music aficionados take over on weekends. The club's dress code is flexible, allowing patrons to express themselves comfortably on the dance floor.
Making the Most of Your Experience
To ensure you don't miss out on the excitement, consider buying pre-sale tickets. These not only grant you entry at a slightly lower price but also provide quicker access to the venue. And remember, the ticket price often includes a complimentary drink. Sala Apolo operates with a typical club schedule, opening its doors at 12:30 am and closing at 5 am on weekdays, and extending to 6 am on weekends.
Discover the Heartbeat of Barcelona's Nightlife
Sala Apolo, with its rich history, diverse music offerings, and vibrant atmosphere, stands tall as one of Barcelona's most celebrated nightlife and cultural spaces. Its fusion of tradition and modernity, along with a commitment to showcasing talent from all walks of the music world, solidifies its place as a must-visit destination for anyone looking to experience the heart of Barcelona's nightlife. Whether you're a local or a visitor, Sala Apolo promises an unforgettable night out that captures the essence of the city's lively spirit.