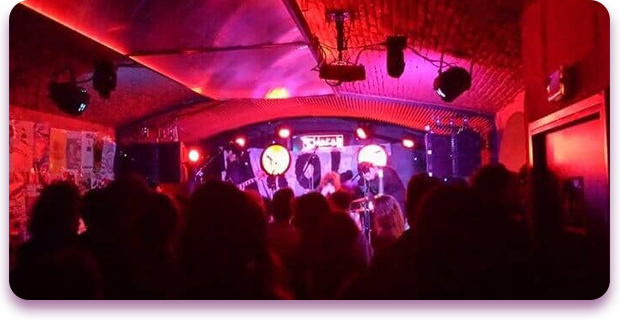 Sidecar Factory Club
Unveiling the Vibe: Sidecar Factory Club – Where Barcelona's Nights Come Alive
In the heart of Barcelona's bustling Plaça Reial, Sidecar Factory Club stands as a testament to the city's vibrant nightlife. What started as a dance hall that occasionally hosted the U.S. Sixth Fleet has now transformed into a rock citadel that resonates with an eclectic mix of music, from Latin beats to indie melodies and everything in between. With an air of elegance that defies the norm for rock venues, Sidecar Factory Club has attracted big names and even celebrity appearances for 'secret' concerts, all while maintaining an aura of understated cool.
A Musical Journey Through Time
Since its inception in 1982, Sidecar Factory Club has been a driving force in Barcelona's underground music scene. For over 30 years, it has been the go-to destination for both live shows and DJ sets, showcasing the latest sounds and providing a platform for emerging talents. The club has played host to an impressive roster of artists, including New York Dolls, The National, The Wedding Present, Best Coast, The Posies, Jon Spencer, At The Drive-In, Franz Ferdinand, and even the multi-talented Elijah Wood. The stage at Sidecar Factory Club has witnessed the passion and energy of countless bands, singers, and DJs, leaving an indelible mark on the city's musical landscape.
Diverse Nights for Every Taste
Sidecar Factory Club's commitment to musical diversity shines through in its weekly lineup of events. With a unique club night scheduled for every weeknight (excluding Sundays), there's no shortage of options to dance the night away. From electronica to punk, rock to techno, the club offers an array of experiences that cater to a wide range of musical preferences. And with reasonable prices, it's easy to explore different genres and enjoy a dynamic nightlife.
A Historic Location with Contemporary Charm
Situated in the Gothic Quarter's Plaça Reial, Sidecar Factory Club occupies a unique and historic space that perfectly complements its avant-garde atmosphere. The neighborhood's untouched streets and the plaza's historical significance provide an ideal backdrop for the club's energetic ambiance. While Sidecar Factory Club is especially loved by rock enthusiasts, its programming extends to various musical genres, including ska, techno, funk, pop, and punk, creating an inclusive space for unconventional music lovers.
A Catalyst for Creativity
Sidecar Factory Club's daring and original programming doesn't stop at music. The club takes pride in hosting a variety of artistic events and exhibitions, showcasing cinema, gastronomy, video, theater, painting, comics, and more. This commitment to creativity and diversity elevates Sidecar Factory from a mere night club in Barcelona to a cultural hub that fosters artistic exploration and collaboration.
Immersive Nights and Unforgettable Memories
Despite its relatively modest size, Sidecar Factory Club boasts a capacity of up to 300 people, ensuring an intimate and immersive experience for every guest. The club's schedule, operating from Thursday to Saturday, offers a range of events from 7:00 p.m. to the early hours of the morning. The Sidecar Factory Club is a hotspot for young locals and visitors seeking an alternative nightlife experience. With its unique blend of music, diverse events, and welcoming atmosphere, the club attracts both aficionados of alternative music and curious explorers looking to dive into Barcelona's after-dark scene.
A Testament to Rock and Resilience
As the New York Dolls graced Sidecar Factory Club's stage for the venue's 25th anniversary in 2007, they likened the experience to the iconic punk haven CBGB in New York, or even a version of hell – a fitting tribute coming from the rock legends. Sidecar Factory Club's legacy and influence in Barcelona's nightlife continue to thrive, embracing its past while shaping the future of indie rock in the city. Through its walls, stories of the US Sixth Fleet and spirited locals intertwine, creating a tapestry of memories that define the essence of Sidecar Factory Club. As the night beats on, Sidecar Factory Club remains an underground temple where music transcends time and boundaries, inviting all to revel in the rhythm of the city's heartbeat.